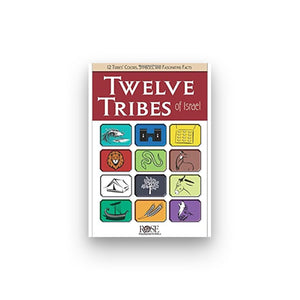 With their roots in Genesis, the 12 tribes of Israel remain relevant throughout scripture. Enjoy easy access to this quick reference with visual reference to each tribe's symbol, history, and other fascinating facts at a glance.
Each booklet includes:
Full-color map

Family tree

Tabernacle diagram

Picture of the tribe's symbol (such as the lion from the Tribe of Judah)

A quick overview of each tribe's size, family history, location, and more

A simple summary of Jacob's blessing, Moses' blessing, and other key events related to each tribe
Perfect for individual or group use. 14 panels, fits inside most Bibles, 8.5" x 5.5", unfolds to 38" long.